About Ron Gallagher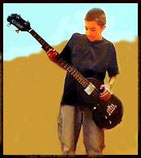 Studies include Electronic Music and Piano with Dr. Mary Simoni who formerly chaired the Music Technology Department at the University of Michigan. Completed courses in Music Theory and Sight Singing. Cinematic Score and Audio Engineering, Web Development with a focus on Creative Production and Media Deployment. Creative Graphics, Sales and Marketing.
Experience
Performance:
Provided Bass/Guitar/Keys/Vocal for The Coasters, Dennis Yost and The Classics Four, Cub Koda, The Marveletts, Freddie "Boom Boom" Cannon, Montana Rush, Penny Tellier, Frog and The Beeftones, ThingFish, Marc Espinoza, Karma DeLuxe, Tommy Vale, The Sea Cruisers, Boy Wonder, Brittney Elizabeth, LeeAnna, King Swami, Peter Manno, Erik Erikson, Amish Underground, Worthless, Strolling Ruins, Sweet Lady Brick, The Capshuns, Traumatic Theatre, The Dust Bunnies, UnCorked The Band, and others.
Provided opening sets and technical support for Mountain, Kansas, Clarence Clemons, The Association, Rare Earth, Steppenwolf, Johnny Winter, Edgar Winter, Larry Graham, Al Green, Tommy James and the Shondells, Freddie Fender, Peter Paul and Mary, Little Milton, Chubby Checker, Joe Diffy, Michelle Branch, Lindsay Freeman Lombard, Star Unknown, Corndaddy, Hung Dynasty, Wedsels Edsels, Wensday, Dick Wagner (Desert Dreams Productions), Soulstice, Eight Fold Path, Sweet Lady Brick, The Capshuns, Busted Rubber Babies, Francesca Valle, Montana Rush, Penny Tellier, Erik Erikson, The Stains, Forte, Denmark, UnCorked The Band, Kaprelyn, Anguish, Black Moon, Shattered Image, Lightning Strikes, MARVIN MEDIA, Wayland Productions, Modern Myth Productions, Euphony RLM, The Oakland Youth Orchestra, MAT Music, Jim Shultz Dynamic Element, Enterprise USA, Inc. and others.
Career includes decades of stage performances throughout the US and Canada.
Owner operator of professional Audio and Video service in Lansing and Detroit Michigan, Los Angeles, Huntington Beach, La Habra and Whittier California.
Clients include the Oakland Youth Orchestra, Armed Forces Network (AFN), Freedom Radio Baghdad Iraq, Daimler Chrysler Media, Dodge Motor Sports, BFI, Waste Management, Green Geological, KEE Environmental, Pacific Document Services, Various Educational Institutions, Modern Myth Productions, Jim Shultz Dynamic Element and others.
Corporate and Retail Musical Instrument Sales and Service:
LaHabra Music Center
Musical Instrument Retail, LaHabra California.
Manager Retail Sales. Instruction, Installation and Technical Support.
Marshall Music Lansing Michigan. Professional Audio Sales and Support.
Enterprise USA, Inc. Provided Sales, Marketing, Media Development and Deployment for Custom Software Development and Hosting Firm Detroit Michigan.  Web site design, production, deployment and support.
Music Production Credentials:
Owner Operator of Independent Record Labels MeDiaDAMagE and Sky Voltage Media, providing e-commerce solutions to artists, bands, ensemble, orchestras, corporations, civic and educational institutions.
Producer, Director of TV, Radio, Film and Stage Productions, Armed Forces Network (AFN).
Provided partial or complete Score for Indy Films Plank Daze, Demon Lover 2, Live A Little Die A Lot, How I Lost The War, Alien Abduction, Traumatic Theatre, "We're Alive", Monks From M.A.R.V.I.N and others.
Keith L. Ware Award Winner in collaboration with SFC Scott C. Marvin and Dan Rather (CBS News). 
Experience includes providing musicians complete production services in Studio and on Location. From Creation to Documentation, Editing, Mastering, Media Duplication to Deployment Distribution, Performance and Technical Support.
Performed, Produced, Engineered and Published music projects in a wide variety of genre.
Productions broadcast worldwide on MTV, UNIVISION, FREEDOM RADIO and Armed Forces Network (AFN).
Instruction:
Provided Beginning Bass and Guitar instruction La Habra Music Center La Habra California.
Currently provide private instruction on Keyboard, Guitar, Bass, Voice, Audio Recording Engineering and Production, Video Editing, Voice Over, Foley and Dialog Replacement. Provide Web Design instruction and mentoring including Dreamweaver, Flash, Fireworks, Photoshop, Illustrator, HTML,  PHP and more.
Production:
I enjoy Artist Development providing Complete Performance, Production and Technical Support.  I find great satisfaction in helping those I care for to realize their goals and dreams.
Currently located in Lansing Michigan providing performance and Production support to Tracy Stiles, Lindsay Freeman Lombard, Elvis Aaron Presley Jr., Tommy Vale & The Torpedos, "UnCorked" The Band, Marvin Media, Modern Myth Productions "We're Alive" A Zombie Story of Survival, Marc Espinoza, Peter Manno, Karma DeLuxe, The Anxiety Works, The Transports, LeeAnna, Joel Brown and Ed Goldfarb, Busted Rubber Babies, King Swami and Jim Shultz Dynamic Element.
Follow @Ron_Gallagher